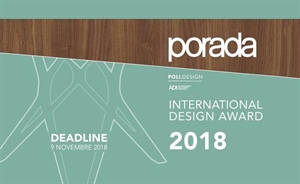 Porada International Design Award 2018
About the Competiotion
PORADA, in cooperation with POLI.design, announces an international ideas competition to identify new innovative concepts on different types of writing desks & dressing tables, in which the use of solid wood is prevalent (although not necessarily exclusive) and which conveys the values and the identity of the Porada brand.
The wood, whether in natural-finish (preferably in finishes mainly used by the company), or lacquered, can be combined with metal, plate glass, leather, hide leather or fabric.
The submitted designs shall be original and unpublished; they must enhance the use of production technologies and woodworking processes and typical finishing of the solid wood and they must respond to the principle of functionality.
They must comply with the existing safety standards in force, also respecting ergonomic, environmental and sustainable design requirements.
Who Can Apply?
The competition is open to:
Professionals category (P), Italian and/or foreign designers working independently or employed by companies (if duly authorized by their company).
Students category (S), Italian and/or foreign students enrolled in Bachelor's or Master's degrees and recent graduates.
For both categories, group entries are also permitted. in this case, the members of the group must appoint a leader who will be the sole person in charge and referent towards POLI.design.
Competition Awards
The total prize money of € 10,000.00 will be allocated as follows:
PROFESSIONALS Category
1st prize € 3,000
2nd prize € 2,000
3rd prize € 1,000
STUDENTS Category
1st prize € 2,000
2nd prize € 1,200
3rd prize € 800
Deadline to apply!
The entries required in digital format, without exception, must be received no later than November 9th, 2018.
How to Apply?
To request more instructions how to submit your work Click HERE